In the past year, Dark has experienced changes in personnel restructuring, factory relocation, etc.After these work was successfully completed, we ushered in 2019.
After entering 2019, all employees of our company continue to work hard and provide customers with more quality products and services.
Here are the latest products from our company:
1.Chckout Counter
The cashiers we produce are highly competitive both in domestic and foreign markets. Because the cashier table has many advantages. Structurally, the Checkout Counter is easy to disassemble and can be freely combined. In terms of appearance, the checkout counter has a beautiful appearance and exquisite design, which adds a lot to the supermarket.
Description of Checkout Counter:
Material: Galvanized Steel
Size: Main Frame: L600*W800*H800mm
Sub Frame: L600*W800*H800mm
Arc Corner: R800*H800mm
Structure: Combination and Stitching
Packaging: Standard Export Package
Payment: L/C, T/T, Western Union, Paypal
Delivery: Qingdao China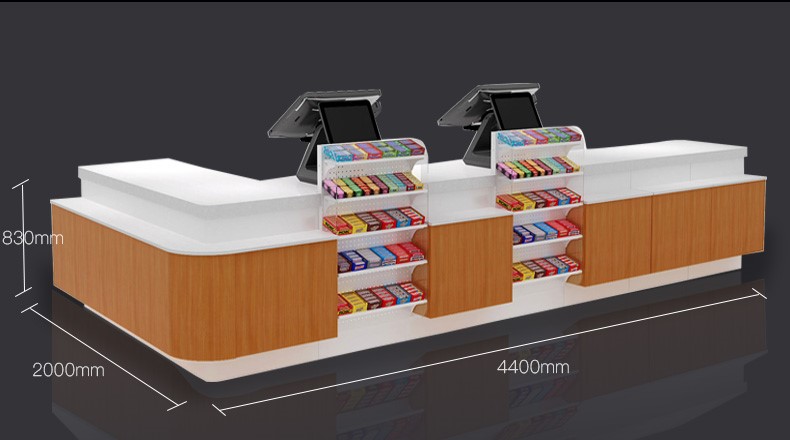 2. Supermarket Display Shelving


Display racking adopts the CVS galvanized steel column with scientifically designed bending treatment, which is stronger in bearing and more stable in the whole. The Shelf Rack column is 1.2mm thicker than the material used for ordinary column. The back panel of the Metal Rack is one piece. This structure can increase the support.

Description of Gondola Display Racking

Material: Galvanized Steel

Status: New

Double-Sided Main/ Sub Frame: L700*W700*H1350/ 1500mm

L900*W900*H1350/ 1500mm

End Frame: L700*W350*H1350/ 1500mm

L900*W450*H1350/ 1500mm

Structure: Combination and Stitching

Color: Customize

Packaging: Standard Export Package

Payment: L/C, T/T, Western Union, Paypal

Delivery: Qingdao CHINA

Application: Supermarket, Convenience Store, Retail, Grocery, Pharmacy